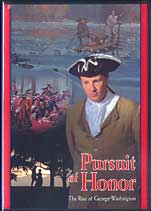 . The third video release from Paladin Communications - extending the story of George Washington. This follows the films When the Forest Ran Red ($19.95 DVD) and George Washington's First War ($19.95 DVD).
Pursuit of Honor is the most ambitious independent documentary ever attempted about George Washington and explores two dynamic themes:
Washington's belief in Providence, which—so he supposed—allowed him to escape death many times.
Washington's growth of character; in pursuit of honor he shed the shallowness of youth and in time became a complete gentleman. George Washington made himself into a man capable of founding the most powerful nation in the world.
The film explores Washington's early military career in the French & Indian War, his romances, his family life, and his management of Mount Vernon, and connects these experiences to his actions in the Revolution and his two terms as the first President of the United States. This is an accessible George Washington—not the cold and aloof "man-in-a-Washington-suit" as he is often portrayed.
The film provides viewers with a backstage pass into the private world of George Washington, from his love of Sally Fairfax to his marriage to Martha Custis, from farm fields to battlefields, from imperial rule to the dawn of liberty. Come meet the Founding Father you never knew.
85 minutes plus bonus features $19.95 DVD.