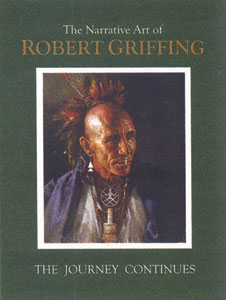 The Narrative Art of Robert Griffing - The Journey continues contains over 120 color plates in a book of over 160 pages depicting 18th Eastern Woodland American Indian people. The images contained in this book are of paintings Griffing created after the publication of The Art of Robert Griffing, released in 1999.
The image to the right is "He Speaks of the Old Ways" which is the cover image of the book. This image is available as a 16" x 20" canvas print for $330.00.
2007, hardback, 160+ pages, 120 color plates.
OUT OF PRINT as of June 2017. There is talk about republishing this title so stay tuned...