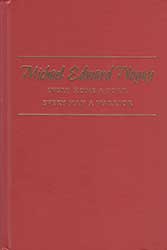 Revised in 2017 from the original paperback version which is now out of print, this new hardback edition describes the forts and stories of forts and men in the upper Ohio Valley during the American Revolutionary War detailing the Northern Panhandle of West Virginia and the Upper Ohio Valley during the Revolutionary War from 1775-1795.
The book describes in detail the murders of Chief Logan's entire family in 1774, which sparked Lord Dunmore's War and international outrage, and caught the interest of future president Thomas Jefferson.
You'll also read chapters about Ft. Henry hero Captain Samuel Mason, who later became a river boat pirate, and Lewis Wetzel and his brothers are contained therein, as is the famous frontier story of Andrew Poe's epic battle in hand-to-hand combat with the Indian known as Big Foot.
The book is the result of research by attorney Michael Nogay who spent over two years on the project and reveals several secrets from the Revolutionary War era in Western Virginia that have been left untold for over 235 years. The book contains descriptions of over 35 forts and blockhouses, all of which are shown on a detailed map of the period.
Hardback, 2017, 128 pages, index, 12 color plates, $24.95

below: cover of out of print paperback version