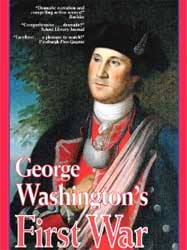 George Washington's First War: the Battles for Fort Duquesne, picks up where When the Forest Ran Red ends. Braddock's army has been annihilated. British colonists recoil in fear as French & Indian guerrilla warriors invade. It is left to one man, the 'retired' George Washington, all of 25 years old, to pull together defenses for 500 miles of colonial frontier.
George Washington's First War features the further adventures of George Washington set amidst the struggle for the Ohio country between three empires--Britain, France, and the Native Americans. Key plot elements include the terror campaign against English colonials, the story of Mary Jemison, the ascension of William Pitt to power, the Kittanning Raid, the Battle of Grant's Hill, Washington's friendly fire incident, and the final days of Fort Duquesne. Impressive characters portrayed in the film include French Governor-General Vaudreuil, commandant of Fort Duquesne Marchand de Ligneris, the Indian sachem Captain Jacobs, missionary Christian Frederick Post, and British luminaries General John Forbes, Colonel Henry Bouquet, and Major James Grant. America's Postmaster-General Benjamin Franklin also appears, as does British Prime Minister William Pitt.
85 minute run time, plus bonus footage $19.95.