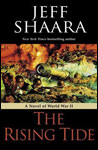 The Rising Tide begins a staggering work of fiction bound to be a new generation's most poignant chronicle of World War II. With you-are-there immediacy, painstaking historical detail, and all-inclusive points of view, Shaara portrays the momentous and increasingly dramatic events that pulled America into the vortex of this monumental conflict.
As Hitler conquers Poland, Norway, France, and most of Western Europe, England struggles to hold the line. When Germany's ally Japan launches a stunning attack on Pearl Harbor, America is drawn into the war, fighting to hold back the Japanese conquest of the Pacific, while standing side-by-side with their British ally, the last hope for turning the tide of the war.
Through unforgettable battle scenes in the unforgiving deserts of North Africa and the rugged countryside of Sicily, Shaara tells this story through the voices of this conflict's most heroic figures, some familiar, some unknown. As British and American forces strike into the "soft underbelly" of Hitler's Fortress Europa, the new weapons of war come clearly into focus. In North Africa, tank battles unfold in a tapestry of dust and fire unlike any the world has ever seen. In Sicily, the Allies attack their enemy with a barely tested weapon: the paratrooper. As battles rage along the coasts of the Mediterranean, the momentum of the war begins to shift, setting the stage for the massive invasion of France, at a seaside resort called Normandy.
More than an unprecedented and intimate portrait of those who waged this astonishing global war, The Rising Tide is a vivid gallery of characters both immortal and unknown: the as-yet obscure administrator Dwight D. Eisenhower, whose tireless efficiency helped win the war; his subordinates, clashing in both style and personality, from George Patton and Mark Clark to Omar Bradley and Bernard Montgomery. In the desolate hills and deserts, the Allies confront Erwin Rommel, the battlefield genius known as "the Desert Fox," a wounded beast who hands the Americans their first humiliating defeat in the European theater of the war. From tank driver to paratrooper to the men who gave the commands, Shaara's stirring portrayals bring the heroic and the tragic to life in brilliant detail.