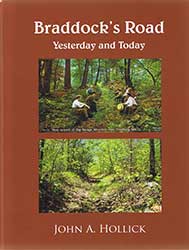 This book contains copies of the original set of 60 colored John K. Lacock Braddock Road postcards/photos circa 1910 in original 5 ½ x 3 ¼ size with associated caption and a descriptive characteristic about the postcard.
Below the postcard is the associated text from Lacock's book "Braddock Road" that relates to the location of the postcard. On the following page is shown the present day view of the actual postcard site as identified by author John Hollick. The characteristics of the photo is described below with comments to explain how the modern day location was chosen as the original location of Lacock's postcard site.
An additional section of approximately 60 photos are provided showing additional views of the locations or nearby locations of interest.

Hardcover, 9 x 12, 181 pages, color, $49.95.