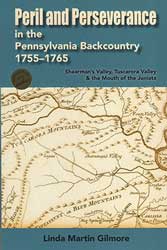 Today the valleys and streams of Perry County and Juniata County and the area around the mouth of the Juniata River are peaceful and prosperous. But more than 250 years ago, Shearman's Valley, Tuscarora Valley and the mouth of the Juniata saw danger and bloodshed. The area was still wild in the 1750's and settlers from the east were just beginning to tame this frontier.
Their future in these valleys did not come without cost. The area suffered two waves of attacks from Indians and their allies. The first wave of attacks took place in 1756. Settlers either fled the valleys or stayed and depended on private forts. Patterson's Fort, the only manned fort in the region provided limited protection, but Robinson's Fort, Bigham's Fort, and isolated families in cabins were attacked. Many settlers died or were taken captive. Some captives were able to come home, while others never returned.
A second series of attacks swept through the valleys in 1763, including a skirmish which took the life of prominent settler Alexander Logan, as well as the Battle of Buffalo Creek.
Who were these pioneering settlers in the backcountry? How did they fare? Who survived, who perished, and who never returned home? This well-documented book relates these stories of the Pennsylvania backcountry in the mid 1700's, revealing the bravery and endurance of the men and women who settled these valleys.
Paperback, 2016, 6" x 9", 184 pages, b/w illustrations, $24.00 (our copies are signed by the author - no extra charge)