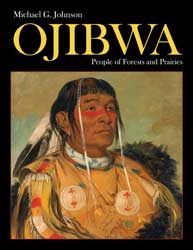 The story of the Ojibwa people spans both Canada and the United States.

Ojibwa describes the history and culture of the people, and introduces their most important figures. It offers the most up-to-date and essential facts on identity, kinships, locations, populations and cultural characteristics. It presents extensive visual coverage of tribal dress and cultural artifacts, dozens of color and archival photographs, specially commissioned color illustrations, regional maps that show prehistoric cultural and historic sites, and maps showing tribe distribution and major historical events.
Now and in the past, the Ojibwa challenge the Navajo and Cherokee as the largest "tribe" north of Mexico, and taken as a whole, likely the largest before European contact. At the zenith of their expansion -- about 1800 -- they claimed an estate probably greater than any other native American people north of the Rio Grande, with the possible exception of the Algonkian-speaking Cree. In the United States the Ojibwa are referred to as the Chippewa, and in Canada by a variety of names depending on where they live (Ojibway, Saulteaux, Plains Cree, Bungi, Mississauga and "Cree-Chip"). Today, many Ojibwa today identify themselves as Anishinaubag (Anishinaabe), "Original Men" in their own tongue.
Today approximately one third of a million people are descendants of the numerous bands of the Ojibwa Indian peoples. Many are enrolled members of reservation agencies within the U.S. or registered as band members of First Nation reserves in Canada. Others are self-identified in the U.S. census, or in Métis communities in both the U.S. and Canada.
Hardback with full color cover and full color dust cover, 2016, 8.5" x 11", 160 pages, full color photographs, reproductions and maps, bibliography, index. $35.00.