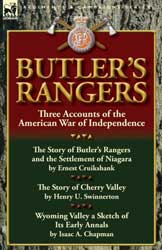 The Story of Butler's Rangers and the Settlement of Niagara by Ernest Cruikshank.
The Story of Cherry Valley by Henry U. Swinnerton.
Wyoming Valley a Sketch of Its Early Annals by Isaac A. Chapman.
Loyalist rangers of the American War of Independence.
It is, perhaps, in the the character of the American Rangers of the eighteenth century that they would be perceived in entirely different ways depending upon which side they fought. These were guerrilla fighters not regiments of red coated regulars occupying the battle lines. They were a unique kind of warrior equal to their tough environment and with their own brand of warfare. Their task was to disappear quickly into the wilderness only to appear unexpectedly to wreak ferocious destruction then melt away again.
Often supported by native Indians, whose ferocity in battle, known to everyone and all but impossible to moderate once it had been unleashed, the Rangers fought a savage war. Robert Rogers has been perceived as a heroic figure of the French and Indian War by the British and the Americans in whose cause he served. The creator of Butler's Rangers, John Butler also served in that conflict at Ticonderoga, Fort Frontenac, Fort Niagara and Montreal. After the war he became one of the most prosperous men in the American colonies, second only to Sir William Johnson.
In 1775 war came again destroying old affiliations and this time as a 'loyalist' and after taking part in the bloody affair at Oriskany, Butler formed and commanded a unit which would fight a savage rangers war, but against the very people who had once been friends and allies. At Wyoming Valley, Forty Fort and Cherry Valley, Butler's Rangers and their Iroquois allies earned the undying enmity of the American people. This book provides three useful insights into Butler, his rangers and his most notorious engagements for all students of the period and those interested in another aspect of rangers at war.
168 pp., 2011, 6" x 9" paperback, $14.95.