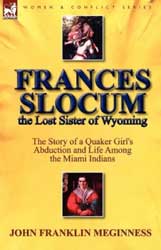 Young Frances Slocum was one of a family of peaceful Quakers from the Wyoming Valley, but latterly living in Lenape, Pennsylvania when, in 1778, aged just five years old, she was abducted by a raiding party of Miami Indians and carried away into captivity. She became Maconaquah-the Little Bear-and she was destined to spend the rest of her life living as an Indian.
It was nearly sixty years before her brothers finally located her on an Indian Reservation near Peru, Indiana and by that time she had been so totally integrated into tribal life, including having been married twice giving birth to four children, that a return to life as a 'white' American woman was impossible; she lived out her life in Indiana dying at the age of 75 years. The fascinating story of 'the lost sister' is another iconic tale of the struggles of women in the emergent American nation and makes riveting reading.
212 pp., 2011, 6" x 9" paperback, $16.95.