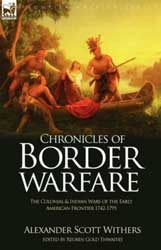 This is the fascinating and bloody story of the American frontier of the eighteenth century - where white man clashed with red man in the Eastern Woodlands and on the banks of the great Ohio River.
This history begins in the time when the British and French vied for the trackless wilderness to create a New World Empire. It takes the reader through the French and Indian War and chronicles battles, depredations and the suffering of early settlers. We join the Zanes and other notable characters along the Ohio. Here is the war of 1774, Boone's settlement and struggles in Kentucky and Lord Dunmore's War. As the American War of Independence erupts the British elicit the aid of savage Indian allies against the young America and the border once more is aflame with warfare and massacre.
Peace with the British brings no respite and the bloody conflict continues between the settlers and native Americans to its bitter conclusion. This is an engrossing but gruelling account—filled with detail and incident—of savagery, tenacity and endurance as people struggle to build or keep a place for themselves in the world.
324 pp., 2010, 6" x 9" paperback, $17.95.