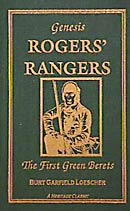 This collectible classic offers the complete record of every action, ambuscade, scout and expedition of Major Robert Rogers and his Rangers from April 6, 1758 (just after their defeat in the Battle on Snowshoes during the French & Indian War), to their disbandment on December 24, 1783, at the end of the American Revolution.
Originally published in 1969, it constitutes Volume II of Burt Loescher's meticulously researched History of Rogers' Rangers. The 20-page bibliography alone is a valuable research aid.
(1969) reprint, 311pp., maps, illus., appends., index, hardback. $37.00.