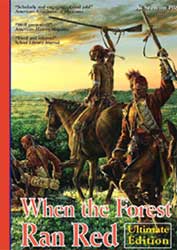 When the Forest Ran Red: Washington, Braddock and a Doomed Army, is produced in cooperation with the Senator John Heinz Pittsburgh Regional History Center and the Smithsonian Institution. It covers the time period leading up to and including the 1755 campaign of British General Edward Braddock and George Washington against the French in the wilderness. With the British a day away, a charismatic French officer leads his French/Indian force in an improbable attack on Braddock's column. The resulting battle will change American history.
Remastered and expanded in 2006, When the Forest Ran Red: The Ultimate Edition contains important special features, including the 50-minute video, A Fast and Dangerous Game, the mini-documentary, Making When the Forest Ran Red featurette, a rare interview with the author of Braddock at the Monongahela (the definitive book about Braddock's Defeat), deleted scenes, trailers for other Paladin documentaries, and tips for educators to enhance the classroom experience. The Ultimate Edition earned a Platinum Aurora Award for Educational DVD upon its release.

This is a top-quality production, and uses numerous living history units, the art of Robert Griffing and commentaries from award winning historians.
Documentary run time 68 minutes plus bonus footage described above. $19.95.