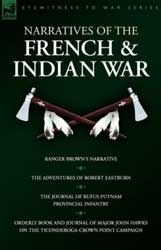 Four essential accounts of war in the New World.

This book will be a joy to all those—academic and casual—who have an interest in the Seven Years War as it was fought in America in the middle of the eighteenth century.
These narratives are too packed with action and incredible events to give details here. They are all shorter works which, without companions, would have been unlikely to see publication individually, but joined together the reader can immerse themself in the times and be enthralled by the voices of those who experienced these momentous times. Here are Rogers, Israel Putnam and other famous Rangers who weave their presence and deeds through each account. Here are the Provincials and the Regulars—the Royal Americans and the Highlanders. Here are Fort Bull, Fort William Henry, Crown Point and Ticonderoga. Here are Monroe, Amherst, Howe, Johnson and many others.
This is the experience of war against the French and their fierce Indian allies in the deep woods of the American Frontier. Raids, ambushes, flights, captures, ordeals and escapes fill all the pages of this truly indispensable book.
248 pp., 2008, 6" x 9" paperback, $16.95.

other volumes:
Narratives of the French & Indian War Volume 2
Narratives of the French & Indian War Volume 3
Narratives of the French & Indian War Volume 4