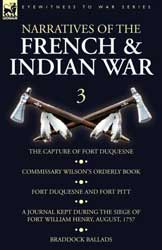 This book is the third volume in an the Narratives of the French and Indian War series. This conflict has perennially attracted students of the history of warfare because it was fought in the woodlands and upon the lakes of the New World, not only between the regular troops of France and Britain, but also including the frontiersmen and militia of both sides and their respective Indian allies.
Volume 3 of Narratives of the French and Indian War includes five essential small works including source material which will broaden the knowledge of all those interested in this fascinating subject.
236 pp., 2019, 6" x 9" paperback, 7 b/w illustrations, $16.95.

other volumes in the series:
Narratives of the French & Indian War Volume 1
Narratives of the French & Indian War Volume 2
Narratives of the French & Indian War Volume 4